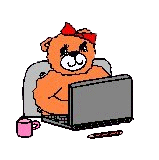 Barkerville Bound
The Story Of The Gold Rush
For Grades 3 - 5
( $16.95 /109pp / 8.5x11 / Reusable plastic package )

The search for gold and all the riches it brings has intrigued men for many years. These gold seekers from the past helped to shape our province and country. Live life as it once was during the glory days. Come on a search for gold and rediscover gold rush fever.



Info Cards containing factual information about the California, Klondike and Cariboo Gold Rushes.


Activities that provide skill practise in computers, language arts, reading, creative writing, research, math, science and arts & crafts.


Science experiments that may be performed by individual students, in small groups or as whole class instruction.


Fun activities consisting of crossword puzzles, word searches and word and math puzzles.


A play to perform


Reproducible writing paper


List of vocabulary words defined in easy terms


A Theme Test

© 1996-2003 Debbie's Unit Factory All Rights Reserved.
---