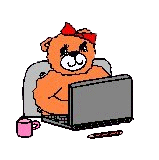 A Salmon Tale
Follow The Salmon On
Its Magnificent Journey
For Grades 2 - 4
( $16.95 /105pp / 8.5x11 / Reusable plastic package )






Learn all about the tale of the salmon beginning with its life as an egg and ending with its miraculous journey back to spawn in the very place it was born. Your class will also learn the importance of this great fish and the need to protect it.



Easy to read Info Cards containing factual information about the Salmon.


Easy to follow activities that provide skill practise in computers, language arts, reading, creative writing, research, math, science, and arts & crafts.


Simple Science experiments that may be performed by individual students, in small groups or as whole class instruction.
Fun activities consisting of crossword puzzles, word searches and word and math puzzles.


Songs sung to familiar tunes


A fun, rhythmic poem to read aloud.
Reproducible writing paper
List of vocabulary words defined in easy terms

Don't Forget To Sign Debbie's Guestbook!
© 1996-2003 Debbie's Unit Factory All Rights Reserved.
---